There are different ways to connect to the internet in the United States, the most innovative being prepaid eSIMs for tourists. We will tell you everything you need to know to buy,  install and start using one in the US. 
In addition, we will look at a comparison with other options available when landing in the  United States, such as Pocket WiFi, SIM cards, and traditional data roaming. 
An eSIM is the evolution of SIM cards, it's a digital SIM that is embedded in the cell phone and is made up of software and hardware. A cell phone compatible with eSIM includes the hardware and needs to obtain the software, also called an eSIM profile, which consists of the identification of the operator. With these two components, the cellphone can connect to cellular networks and work similarly to a SIM card.
Image credit: Gim24 via Canva Pro
When you are in your country, you can easily connect to the internet, make calls, or send messages at an affordable price. However, if you travel abroad, the rates go up since you would be using international roaming. This service works thanks to agreements between operators; however, the customer or user is generally the most negatively affected.
Now, in the United States, you may need to have an active cellphone line to be able to communicate with your relatives at home, fellow travellers, or share photos on social media. Furthermore, it's likely that you would check schedules, make online payments, check schedules and travel itineraries, or rent a car and must use the GPS.
From the launch of the iPhone XR and XS models onwards, all iPhones are compatible with eSIM, even low-cost versions such as the iPhone SE (2020 and 2022 models). Yet, in China, no iPhone supports eSIM because they already have a physical dual SIM.
The Google Pixel brand began to implement it from the Google Pixel 2, as well as the Pixel 3 and recent models compatible with eSIMs that are different from those of Google Fi.
Samsung has also implemented it in high-end cell phones, such as the Samsung Galaxy S20, Fold, and Z Flip. However, in some countries, it's not enabled because the operators have not yet launched the eSIM to their customers. Similarly, the Galaxy Fan Edition (FE) versions don't usually support eSIM.
Huawei, for its part, has the Huawei P40 and the Mate 40 Pro. Meanwhile, Xiaomi doesn't currently have cell phones compatible with eSIM.
Other little-known brands that also support eSIM are Oppo, Gemini PDA, Rakuten, and  Motorola Razr.
Image credit: PR Image Factory via Canva Pro
With the advent of eSIMs, several prepaid eSIM providers have emerged for tourists in the  United States. Here we're going to talk about the two most prominent: Holafly and T-Mobile.
Holafly is a European company that offers prepaid eSIM for tourists around the world,  including the United States. According to Trustpilot ratings, this company has an average rating of 4.6 out of 5, which makes it reliable for those who need to buy a data plan in the US. Next,  we will tell you about its main advantages:
Holafly offers many advantages to its customers. We will explain them to you: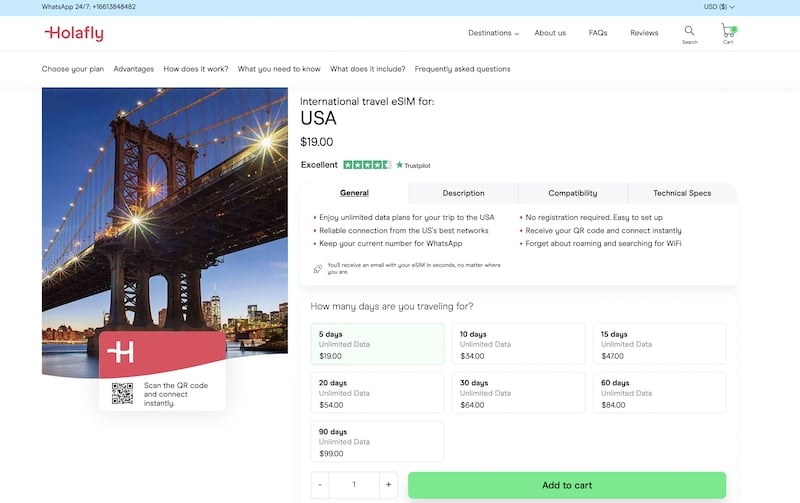 As you may have seen, in the advantages we haven't included some features that SIM cards usually have. Get to know them below:
It is an app offered by T-Mobile for travellers in the US or people who need to activate a second line. Currently, it's available only for Apple iPhone devices that have eSIM technology enabled.
The T-Mobile eSIM is also a good option for travellers. However, you should keep the following  in mind:
Image credit: Jamie McInall via Canva Pro
Depending on the cell phone you have, you must follow a series of steps to install an eSIM. We will explain the steps to activate on Apple iPhone cell phones and Android devices.
In the case of Holafly, go to Setting > Mobile Data and click on Add a new plan. The camera will activate for you to scan the QR code. At that moment, the setup process begins, at the end, you can start using the service or activate it later. To start using the eSIM, select the plan for cellular data, activate cellular data, and roam. Now you can connect to the internet!
In the case of T-Mobile prepaid eSIM, you will need to download and install their app from the  App Store and then go through the purchase process. At the end of the purchase, the eSIMs manager will start the setup of the eSIM. In the end, you choose it as the default line for data and activate cellular data.
After buying an eSIM from Holafly, you receive a QR code. To install and start using the service, go to Settings > Connections or Networks & internet > Manager or SIM card manager and click on Add Cellular plan. The camera will turn on, and you can scan the QR code. To start using the service, you must pick the eSIM as default for cellular data and activate cellular data and roaming.
In case your cell phone is incompatible with eSIMs for the USA, we tell you about other alternatives that will allow you to connect to the internet. Likewise, in case you haven't decided, this comparison can help you pick when to use an eSIM or an alternative.
A prepaid SIM card for the United States provides the same functionality as an eSIM and will allow you to connect to the internet. This option has the advantage of being compatible with most cell phones that are unlocked and work in the USA. However, as a disadvantage, you will have to go to local American stores or wait a few days to receive it at home.
In the case of eSIM, it has the advantage that it turns your cell phone into a dual SIM device and as such you don't need to remove the chip, as is the case with prepaid SIM cards. The eSIM is activated in a matter of minutes and there's no need to go to a store to make your purchase. The entire process is done online! Therefore, if you have a cell phone compatible with eSIM, this option is better than a prepaid SIM in the USA.
As we mentioned at the beginning, data roaming is a service offered by operators so that you can use the plan you bought in the United States. However, in most countries, it's an expensive service.
If compared to the eSIM in the USA, the difference between their prices is abysmal. Although, it is common for operators to offer the SMS service for free. It's a good idea to use both services if you need to receive an analogue call from your home or when you need to receive  SMS to make payments in the United States.
For family trips, it can be a good option to rent a Pocket WiFi, since the prepaid eSIM only allows you to use unlimited data on a single cell phone. This decision depends on the proximity in which the travellers are on average from one another and the level of independence. The rental of Pocket WiFi also has the disadvantage of being an expensive service, and for which it's possible to receive a fine for loss or misplacement.
The amount of data may vary according to the type of use you give it. With moderate use for a  month, you can spend between 60 and 70GB. If we divide that amount by days, to travel without considerable inconvenience, you could need between 1.5 to 2.5GB per day.
Fortunately, today there are eSIMs with unlimited data such as Holafly and T-Mobile, which make travelling to the US more comfortable. However, it's also worth mentioning that the data, although it's unlimited, usually has a reasonable usage cap or limit. Once the user reaches this limit, the operator can reduce the speed from 4G to 3G. In the case of T-Mobile, that limit is 50GB per month.
Most companies in the US are compatible with eSIM. The virtual SIM is offered as a  replacement for SIM cards, and it's often necessary to go to their physical stores to buy and activate one of them. The operators that already have eSIM in the US are AT&T, T-Mobile, and Verizon.
TripZilla inspires travel with guides, tips and stories by our community of travellers in and around Southeast Asia.
CLICK TO SEE MORE ARTICLES BY TripZilla
See More >>
See More >>
Advertise | Cut through the noise with integrated marketing solutions across multiple channels.
Press | Send us your Press Releases & Media Invites.
Editorial | Contribute your travel stories or submit content enquiries.